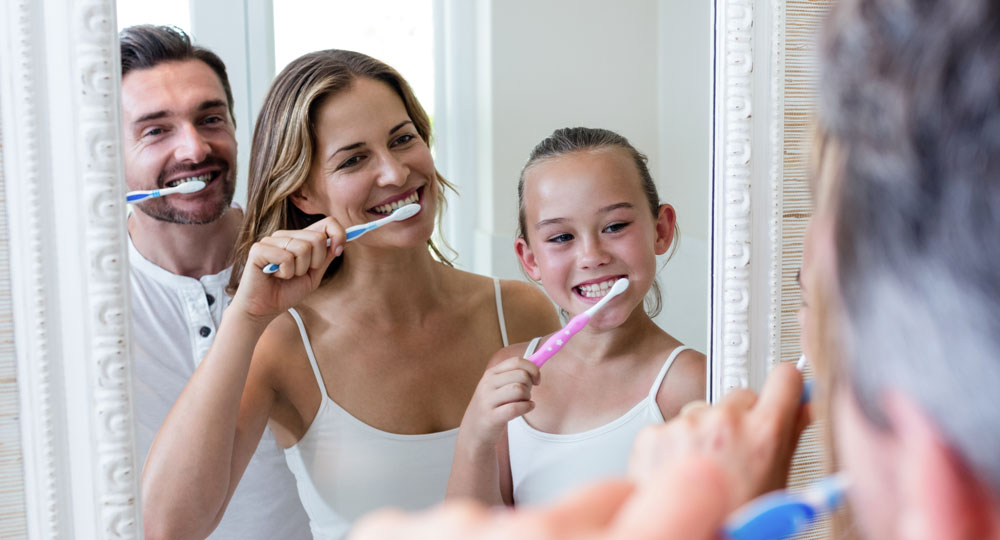 Request your appointment today
At Hebron Family Dentistry, we know the importance of a happy, healthy smile. We are proud to offer exceptional pediatric dentistry services in a relaxed and comfortable environment. Our goal is to help our young patients establish and maintain optimal oral health for a lifetime.
The importance of baby teeth
Maintaining your child's oral health will provide benefits all the way into adulthood. Baby teeth hold the space and serve as guides for the permanent teeth that will eventually come in. They also help with the healthy development of the jaws and muscles and will allow your child to bite, chew, and speak properly.
Losing primary teeth due to cavities or injuries can harm your child's oral health. The neighboring teeth may shift into the gaps, which may result in crooked permanent teeth or a crowded mouth which will require orthodontic treatment down the road. Decay in baby teeth can also permanently damage the adult teeth that are developing behind the scenes.
Your child's first visit to the dentist
The American Academy of Pediatric Dentistry recommends that your child see a pediatric dentist by the first birthday and continue to do so every six months. This allows for learning proper oral hygiene care and enables us to check for cavities and watch out for developmental problems.
Pediatric Dental Treatments
Following are some preventive and restorative pediatric dental treatments we offer:
Fluoride Treatments: Fluoride helps make tooth enamel harder and more resistant to developing decay. Although fluoride is found in drinking water and in toothpaste, a higher concentration may be needed for maximum protection.
Dental Sealants: Sealants are clear coatings that seal off the grooves and crevices on the chewing surfaces of the back teeth to provide protection and prevent cavities.
Root Canal Treatment: Your child may need root canal treatment to save an injured or severely decayed tooth which may otherwise require tooth extraction.
Tooth-Colored Fillings: We use tooth-colored fillings to restore teeth that are decayed or chipped. These restorations will protect the teeth from further damage, without interfering with your child's smile.
Space Maintainers: Children may need space maintainers if tooth loss occurs early or if a baby tooth is extracted due to dental decay. Space maintainers will prevent neighboring teeth from shifting, which helps protect your child's oral health.
Preventive care at home
Daily brushing and flossing will help keep your child's teeth clean and healthy and will help prevent cavities. Encouraging your child to develop proper oral hygiene practices will translate into a lifetime of healthy smiles.
Healthy smiles start here
We, at Hebron Family Dentistry, are committed to offering the best care to our young patients. We look forward to helping your child maintain healthy teeth and happy smiles for a lifetime. Call us today!
Request your appointment today!
At Hebron Family Dentistry, we make it convenient to plan your visit. Simply follow the link to request an appointment time that fits your busy schedule.