Posts Tagged 'cosmetic dentistry'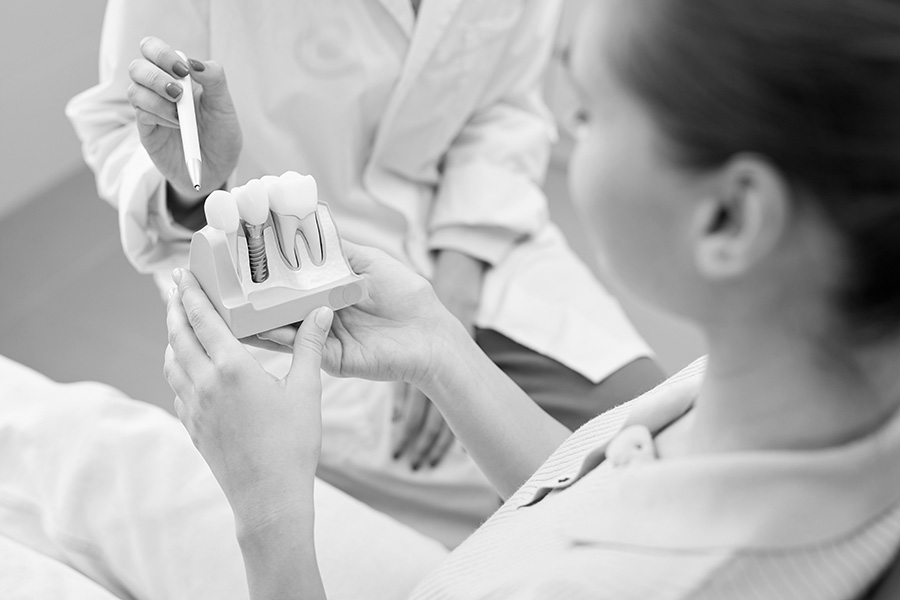 If you are tired of missing teeth or dealing with uncomfortable dentures, you have come to the right place. Hebron Family Dentistry is pleased to offer dental implants, today's gold standard for replacing missing teeth. A visit to Hebron Family Dentistry will have you on your way to a healthy, beautiful, and confident smile!
What Are Dental Implants?
Dental implants are titanium, screw-like posts that are placed in your jawbone to serve as artificial tooth roots. They integrate with the jawbone, providing an incredibly stable and secure foundation for restorations made to look, feel, and function like your natural teeth. Dental implants offer a reliable and long-lasting solution for replacing missing teeth and restoring your confident smile.
What Are the Benefits of Dental Implants?
Replacing missing teeth with dental implants is one of the best decisions you'll ever make for your smile. Dental implants are the only restorations that act like natural tooth roots, preventing bone loss and providing a stable foundation for replacement teeth that are second only to natural, healthy teeth.
With implants, you'll speak with clarity, eat everything you want without restriction, and smile with confidence once again. With proper care, your implant restorations can enhance your smile and quality of life for a lifetime!
What Is the Dental Implant Procedure?
The process will begin with placing a titanium implant in your jawbone to replace your missing tooth roots. During the healing period, which typically takes a few months, the implant will fuse to your bone in a process called osseointegration. When the healing process is complete, we will place a connector called an abutment onto your implant and, once again, wait for the area to heal. The last step is taking an impression of your mouth to create a dental crown made to match the surrounding teeth.
Placing an implant restoration may take a few months to complete as you wait for healing to take place. However, the superior quality of dental implant restorations makes the process well worth the time and effort.
How Should You Care for Dental Implants?
Maintaining meticulous oral hygiene habits will ensure the long-term success of your implants. Make sure to brush and floss regularly and visit Hebron Family Dentistry for routine dental exams and cleanings. We will monitor your smile to ensure your restorations and your oral health stay in tip-top shape.
Dental Implants Near Me
Contact Hebron Family Dentistry in Hebron, KY, to learn more about restoring your healthy, functional smile with dental implants. Dr. Watson and her team are committed to providing exceptional, gentle care using leading-edge technology and techniques. Call 859-689-2021 to schedule a consultation today!